Made in U.S.A.
The fiber structure and density of Chaptex allows for an innovative mask design that is light-weight and provides protection and breathability.
Lint-free, washable & reusable
High-density construction
Superb durability & strength
Ultra-soft texture, no sewn edges
Same performance through 100's of washings
Also available in a 3 Pack for $40
Buy 1, Give 1
For every mask purchased, we will donate a mask or PPE face shield to front line healthcare professionals. We're all in this together.
Double Wire Nose Bridge
Integrated bendable nose bridge, helps seal the mask to your face for added protection and fog prevention.
Elastomer Ear Loops
Skin safe (latex free), designed to make it easy to remove the mask without touching the front surface.
Soft & Lightweight
Weighs only 0.2 oz (about the same weight as a nickel!) and made of ultra soft, quick dry fabric.
Easy Care
Folds compact for storage anywhere (even a trouser coin pocket), washable and reusable.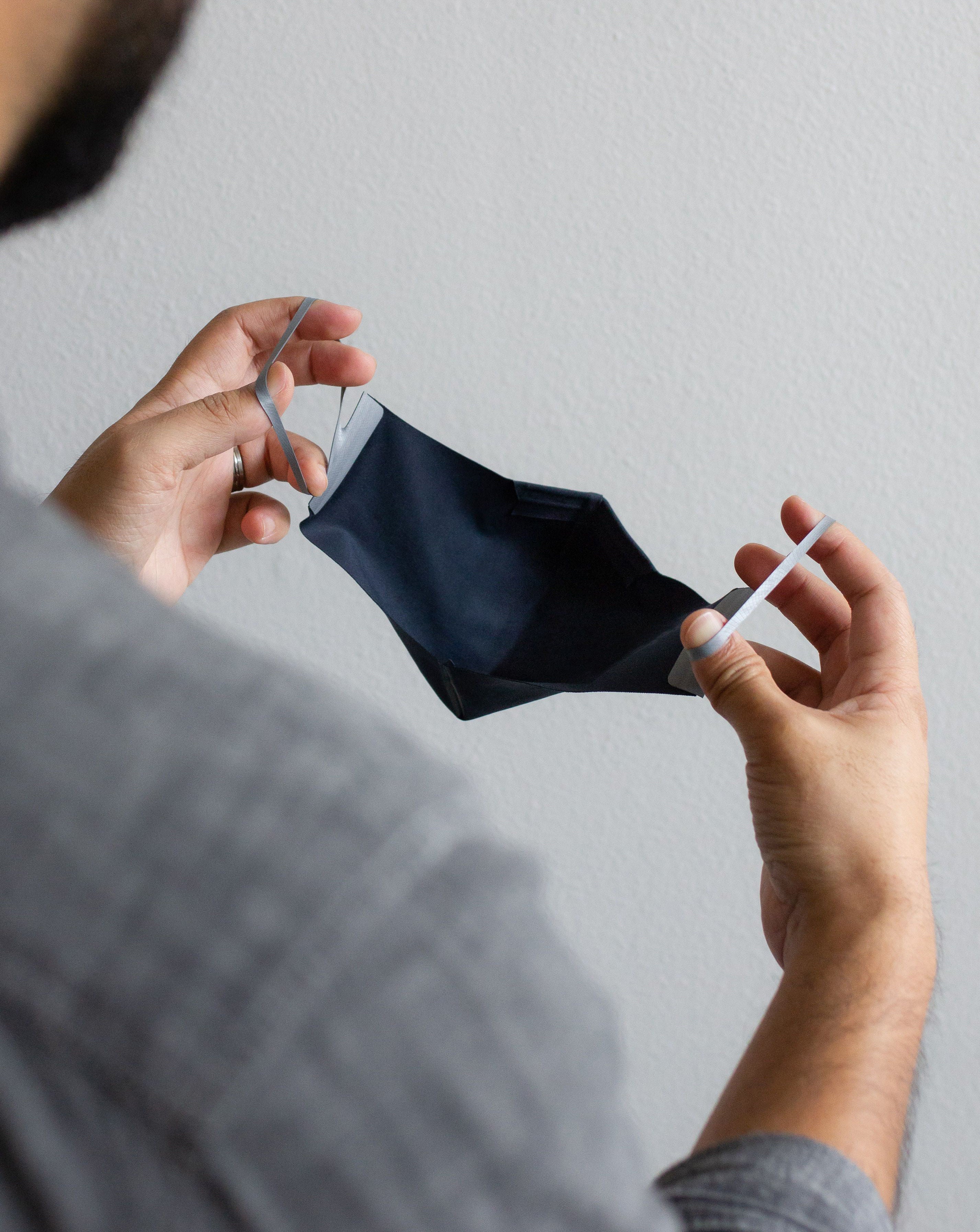 All Day Comfort
Designed for comfortable all day wear
Ultra soft texture
Quick drying, wicks away moisture
Double wire nose bridge, for a custom fit and anti-fog protection
Skin safe elastomer ear loops (latex free), designed to make it easy to remove and replace the mask from your face without touching the front surface.
Contoured form-fit design for better visibility of facial expressions
Functional Design
One of the lightest weight washable and reusable masks in the world at only 2 tenths of an ounce (about the weight of a nickel!)
Folds compact for storage anywhere (even a trouser coin pocket), washable and reusable.
No sewing or stiching: heat bonded seams maintain the fabric integrity (no holes poked by needles, no thread for added weight)
Washable and reusable, durable through hundreds of washings.
Military–Grade Microfiber
Tested and in use by the U.S. Military with millions of units fielded
15 times more filaments per square inch than microfiber
Light weight, quick dry performance material
Ultra-soft texture, feels smooth against your skin
High gauge knitting provides superior durability and strength
Fit & Care
Adjusting the Fit
The elastomer ear loops will soften and stretch with wear. For added comfort, you can exercise the loops to stretch for a better fit.
Loop circumference range: 4.5″ - 8.2″
The M.G.M. mask is also made made to stretch vertically to fit most faces. Simply grasp the mask by the bonded seams and stretch the fabric to slightly lengthen the mask.
Care Instructions
Wash hands before and after handling the mask.
Wash your mask before wearing.
Hand washing is recommended, but M.G.M. mask is safe for machine wash (delicate cycle only) in cold water with mild detergent. Avoid fabric softeners and bleach. Do not dry clean. Air dry.
Safety Information
For hygienic reasons and due to the personal nature of face masks, all M.G.M. Mask sales are final and not eligible for return or exchange.
Wearing the M.G.M. mask will not protect you for getting COVID-19. Per CDC recommendations, face coverings do not replace and should be used in addition to social distancing and regular hand washing.
Chaptex M.G.M. mask is not:
a surgical mask, an N95 or a Filtering Facepiece Respirator (FFR)
intended for antimicrobial or antiviral protection or related uses or uses
for use in any surgical setting or where exposure to liquid, bodily or other hazardous fluids, may be expected
for use in a clinical setting where the infection risk level through inhalation exposure is high
for use in the presence of a high intensity heat source or flammable gas
Proudly made in U.S.A.
Look inside our North Carolina factory
Trusted by the United States military with over 2.8 million Chaptex products in use